Today is Yom HaZikaron, Memorial Day for those who have fallen in defense of the Jewish State.
One Family is a splendid organization dedicated to helping the families of victims of terror. This is a video of their commemoration service Tuesday night. Prepare to shed tears.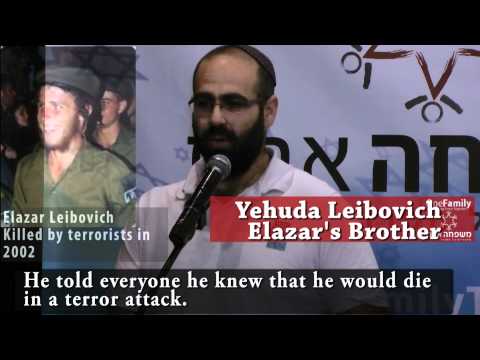 You can leave a message for the victims of terror here.  The message will be placed on the grave of a victim this Yom Hazikaron as an expression of your solidarity and remembrance.
Here's a list of victims murdered in 2011.
Udi Fogel, March 11, 2011
Ruth Fogel, March 11, 2011
Yoav Fogel, March 11, 2011
Elad Fogel, March 11, 2011
Hadas Fogel, March 11, 2011
Mary Jean Gardner, March 23, 2011
Daniel Viflic, April 17, 2011
Ben-Yosef Livnat, April 24, 2011
Aviv Morag, May 15, 2011
CWO Pascal Avrahami, August 18, 2011
Flora Gez, August 18, 2011
Moshe Gez, August 18, 2011
Dov Karlinsky, August 18, 2011
Shulamit Karlinsky, August 18, 2011
Yosef Levy, August 18, 2011
St. Sgt. Moshe Naftali, August 18, 2011
Yitzchak Sela, August 18, 2011
Yossi Shushan, August 20, 2011
Eliyahu Naim, September 4, 2011
Asher Palmer, September 23, 2011
Yonatan Palmer, September 23, 2011
Moshe Ami, October 29, 2011