Very interesting video by Mitchell Bard, PhD.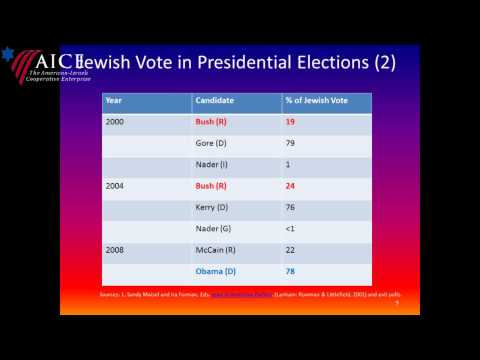 Over 80% of Orthodox Jews vote Republican and Conservative. Secular Jews vote overwhelmingly for Democrats. The reasons are simple. Orthodox Jews live by conservative values and care deeply about Israel. Secular Jews live by progressive values, and in spite of what they claim, they do not care about the Jewish state. Finally, Orthodox Jews already have G-d. Secular Jews seek G-d in their political leaders, hence the unseemly cult of personality that catapulted Obama to the presidency.
However, secular Jews are in a demographic death spiral. A recent survey of Jews in New York City revealed that secular Jews are not having children at a replacement rate, whereas Orthodox and Hasidic Jews are reproducing at such a high level that 74% of Jewish children in N.Y. are Orthodox.
In the next few decades, the Jewish people will be overwhelmingly Torah observant Jews who will vote Republican.
We are witness to the beginning of the end of the Jewish liberal.